Review: Creative Waterford 2018-2022
Closed
21 Oct, 2022, 1:00pm

-

28 Nov, 2022, 12:00pm
Review: Creative Waterford 2018-2022
Creative Ireland Waterford Stats 2018 - 2022
Total Open Call Projects – 90
2018 – 26
2019 – 15
2020 –15
2021 – 22
2022 – 12
Total Culture Team Projects - 69
Total Cruinniú na nÓg events – 113
Total Additional Funded projects/events – 24 (including ACT Waterford, Creative Communities Economic Fund & Covid Care Concerts 2022)
Total projects funded – 297 (including Climate Action Fund/ACT Waterford, Creative Communities Economic Action Fund, Social Prescribing Links & Covid Care Concerts 2022)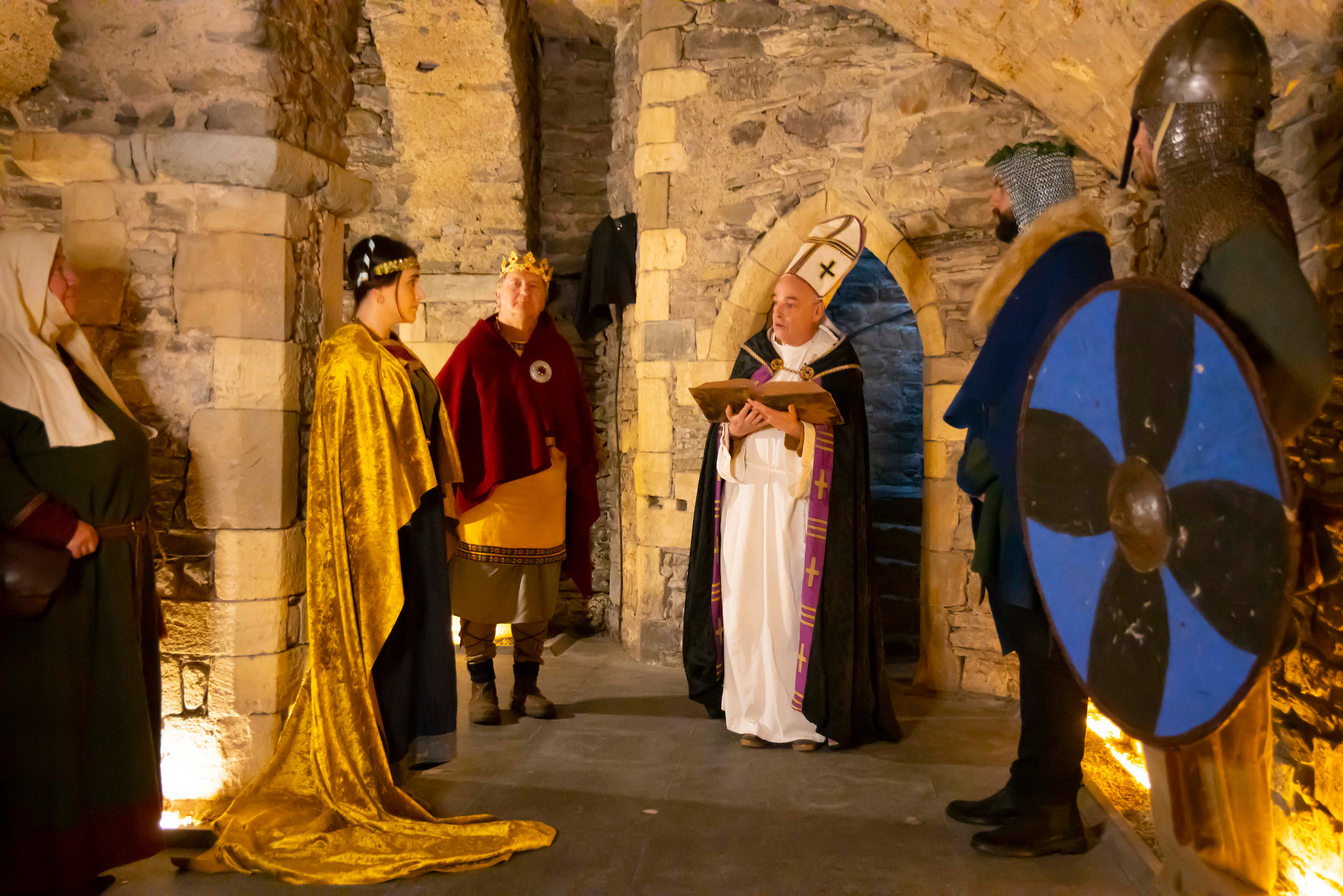 Waterford Treasures Museums, commemorating the 850th anniversary of the marriage of Strongbow and Aoife. Photographer Patrick Browne.
Some examples of completed Creative Waterford projects include: 
Waterford Intergenerational Music Project
In 2021 Waterford Libraries and Music Generation Waterford worked together to create a very special Intergenerational music project with the Bealtaine Choir and pupils at Kilmacthomas National School. Funded by Creative Ireland, the project documented the process of using music and song to share stories, express feelings and explore mutual connections within the community, while enabling a positive ageing and mental wellbeing initiative for older people.  Singing together created the opportunity for both children and older adults to appreciate and learn about their shared identity, heritage and culture.
The project brought together the Bealtaine Choir of older singers (aged in their 70s, 80s and 90s) and the 1st / 2nd class pupils at Kilmacthomas National School.  It was facilitated through musically driven activities that nurture and promote greater understanding, respect and learning across both generations taking account of Covid-19 public health guidance in the community.
Project Partners:
Waterford Libraries, Music Generation Waterford, Bealtaine Choir, Kilmacthomas National School, Waterford Creativity Team, the Age Friendly Programme Manager and Healthy Waterford Officer.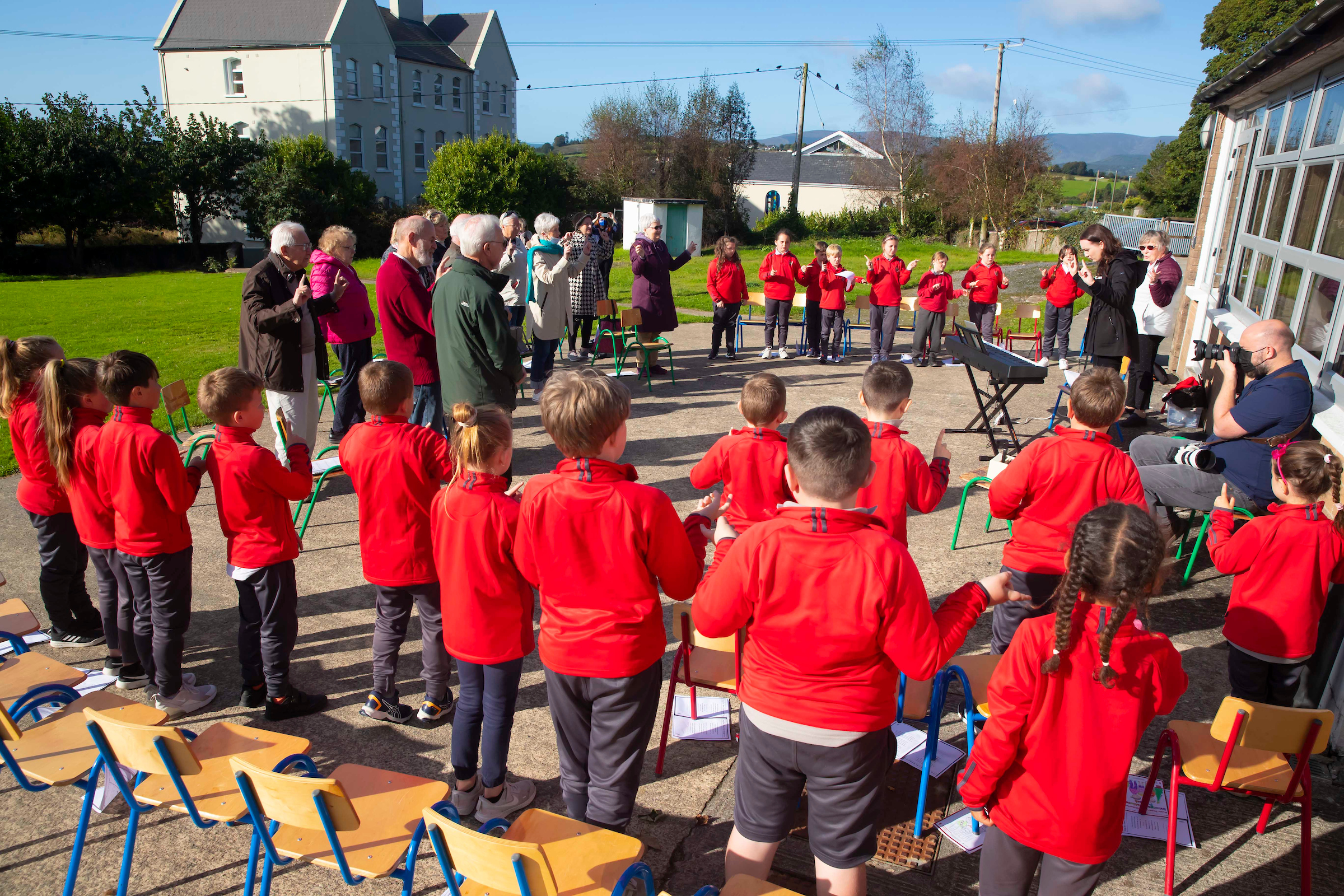 Pupils from Kilmacthomas National School performing with the Bealtaine Choir. Photographer: Patrick Browne.
"There is something special that happens when we sing together, an indescribable sense of belonging that can transform how we feel about ourselves and the world around us. This project reminded us all about this shared feeling, whether 10 years old or 90+, through music we can appreciate and be part of a shared identity, heritage and culture. Creative Ireland support towards this project enabled us to capture moments in time, moments where music brought two generations together where we could reflect on the past and dream for the future" – Shauna McCullough, Music Development Officer, Music Generation Waterford
Waterford Designers & Makers Exhibition 2022
Created by Waterford City and County Council's Creative Ireland Programme, in association with Waterford Local Enterprise Office, the Waterford Designers & Makers Exhibition was launched by Dr Audrey Whitty, Deputy Director of the National Museum of Ireland in May 2022.
The Waterford Designers & Makers Exhibition presented the work of Waterford based design and crafts community, reflecting on the theme of Waterford and what it means to this community. Curator Vincent O'Shea based the exhibition on the creativity involved in craft work and showcased several areas of craft and design including textiles, ceramics, leatherwork & wood turning. It featured the work from 18 exhibitors and was the first such exhibition of its kind in Waterford City or county. The venue for the exhibition was the Waterford Gallery of Art, 32 O'Connell Street, Waterford which houses one of the oldest, and best, collections of contemporary art in Ireland.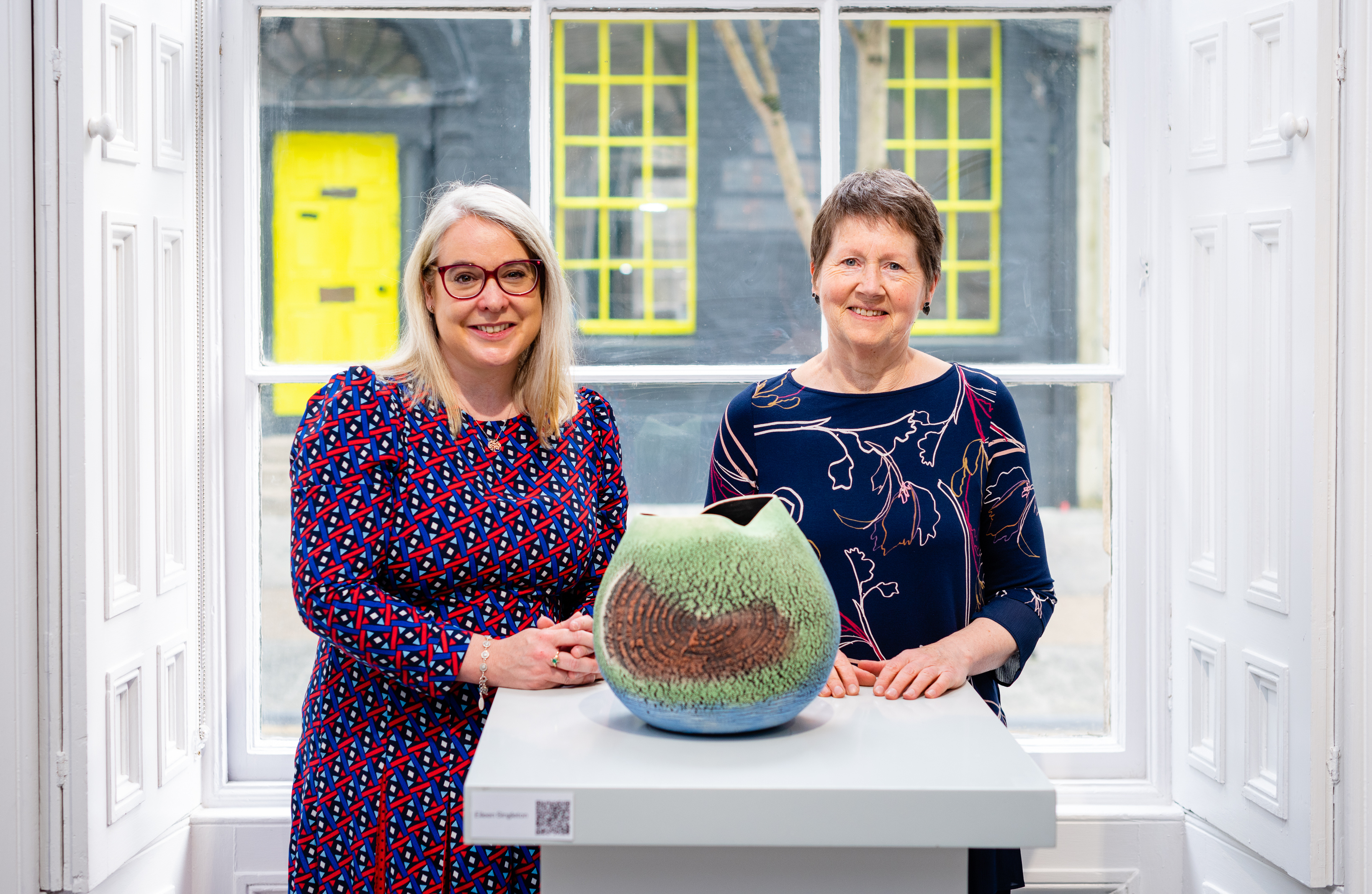 Dr Audrey Whitty, Deputy Director National Museum of Ireland with ceramic maker Eileen Singleton at the launch of the Waterford Designers & Makers Exhibition. Photographer: David Murphy.
"Working with Creative Waterford on the of Designers and Makers Exhibition valued the maker's creativity and business skills. Creative businesspeople don't always comfortably in the economic/enterprise settings; collaborating with Creative Waterford meant the makers knew their creativity would be valued within the project.  The exhibition showed that creativity and enterprise development can work together for the benefit of both." - Bríd Kirby, Head of Waterford Local Enterprise Office (Acting)
Diverse Creatives
'Diverse Creatives': A Creative Ireland Waterford project in partnership with Waterford Library Services, Waterford Integration Services, Europe Direct Waterford and the Imagine Arts Festival. The project was unveiled at the Imagine Arts Festival 2021.
It was a showcase of arts to celebrate the rich culture and experience of migrants who have made Ireland their home. These cultural performances included dance from the Igbo Community Waterford, music from singer and songwriter Minnie Marley, the unveiling of an Intercultural Quilt created by the women of the Shakti Programme and music from Artist, DJ, and Producer Murka Murcury.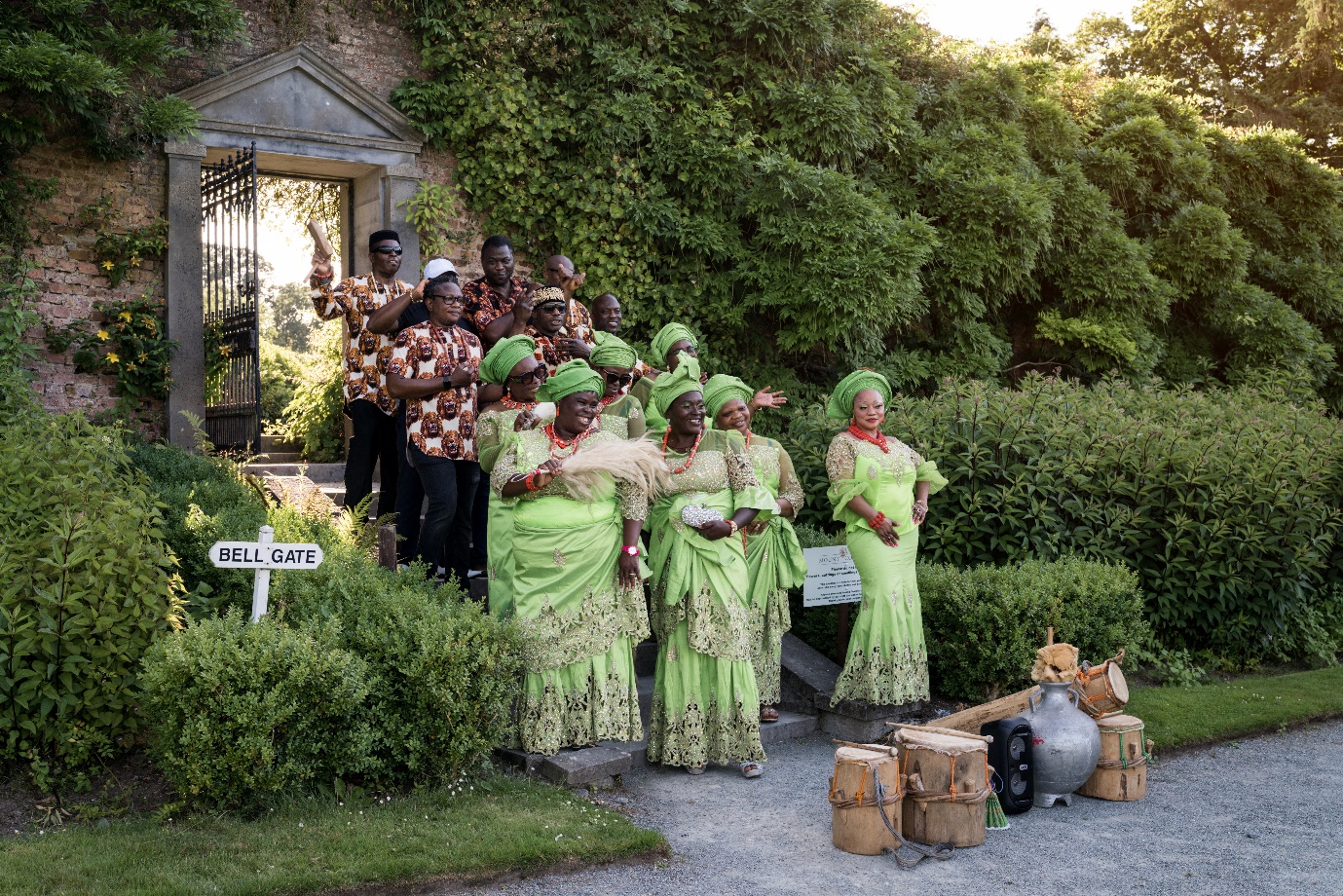 The Igbo Community in Waterford launching the Imagine Arts Festival. Photographer: DGM Photographic.
"The Creative Social Enterprise Programme for local migrant communities, led by Waterford Integration Services and supported by Creative Waterford, provides business opportunities, qualification and financial independence through creative expression of cultural identities.  The programme's creative output delivers animation through vibrant culturally embedded products, services, and performances, enhancing the creative capabilities and earning potential of our migrant communities." - Anne Nolan, Programme Lead, Waterford Integration Services.
Dungarvan Art Trail
Waterford artist and dye transfer printer Jean Curran created an exhibition of original dye transfer prints from Hitchcock Technicolor movies in the form of the Dungarvan Art Trail which was launched in the town of Dungarvan in May 2021. This socially distanced exhibition allowed audiences to experience high quality art during the pandemic, enhancing the town for locals and visitors.
Original handmade prints from the film Vertigo were exhibited in unoccupied shop fronts and available business windows with the collaboration of local businesses throughout the centre of the town. Professionally presented in the shop windows, the prints created an immersive Art Trail allowing the audience to engage in the works as they move from building to building. The project was showcased on RTE's Nationwide programme.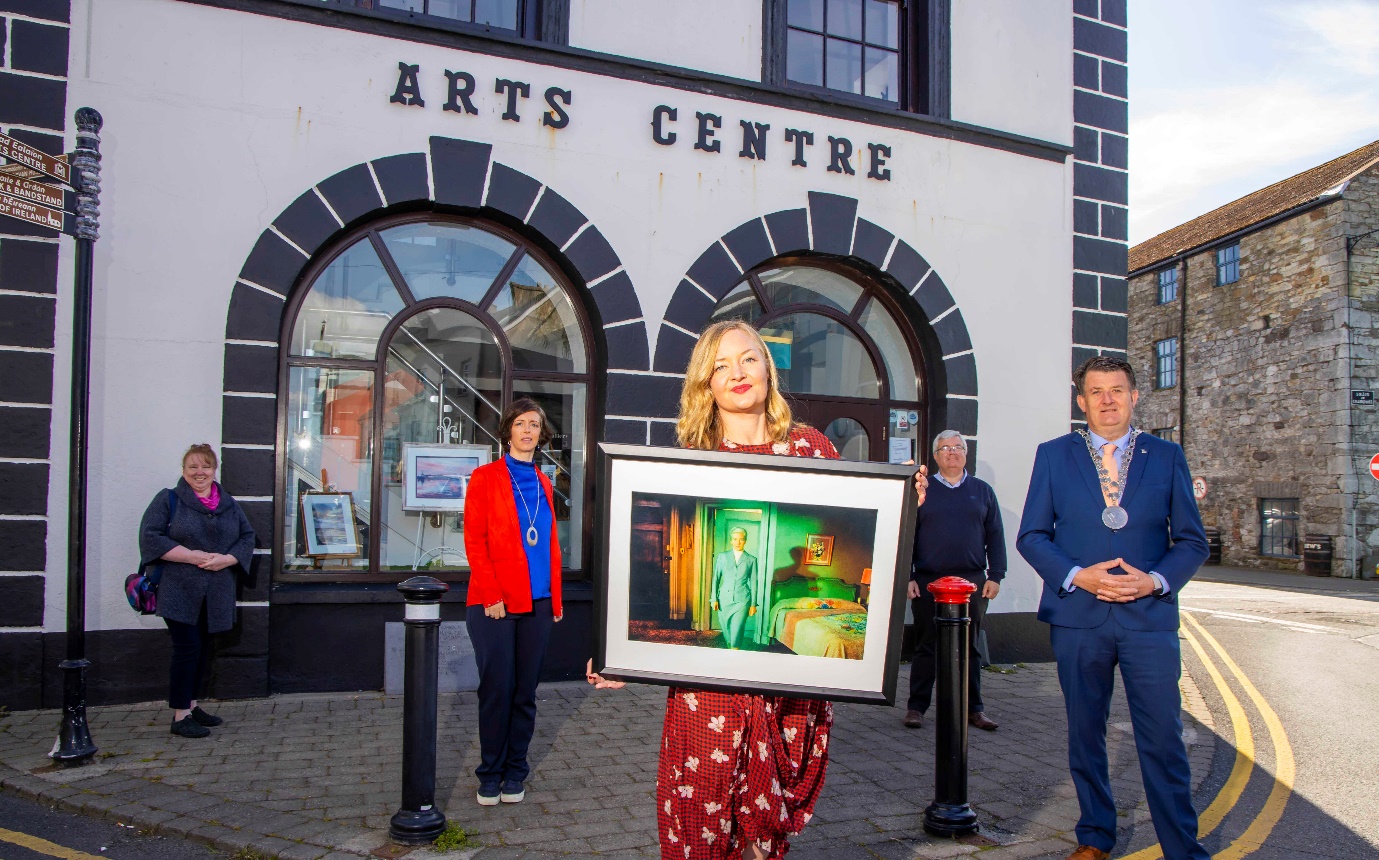 Artist Jean Curran, Waterford City & County Council Arts Officer Margaret Organ, Creative Ireland Waterford Coordinator Katherine Collins, Director of Services at Waterford City & County Kieran Keogh and the Mayor of Waterford City & County Council Cllr Damien Geoghegan. Photographer: Patrick Browne.
"In recent times, people have been unable to go into galleries, indeed some people do not visit galleries at all. The Dungarvan Art Trail placed art central to our daily lives, as people pass buildings which they often don't give a second glance to. Having an artist of Jean Curran's ability to re-imagine spaces and to open conversations about creativity, imagination and art is a great opportunity." - Margaret Organ, Arts Officer, Waterford City & Council.
Street Art for the Goals
Waterford Sustainable Living Ireland's project Street Art for the Goals combined an educational campaign about the Sustainable Development Goals with environmentally friendly moss murals installed in three County Waterford locations (Ballymacarbry, Cappoquin, Lismore).
The project worked with local groups in each location including the Ballymacarbry Tidy Towns Committee, the Cappoquin-Affane GAA Club and the Lismore Tidy Towns Committee bringing in local elements to each of the mural designs and then with Aga Krym the artist on the mural design.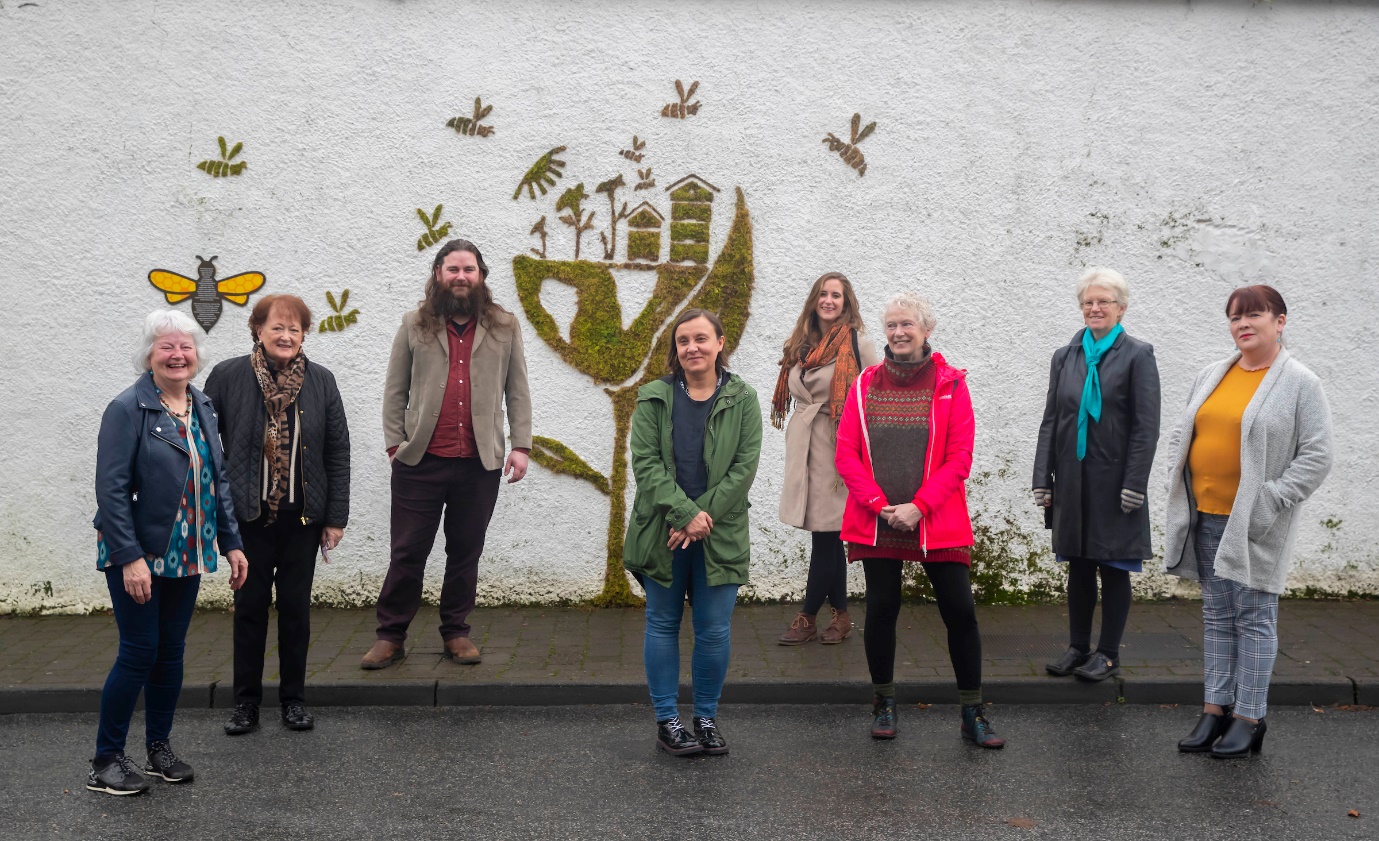 Artist Aga Krym with the Lismore Tidy Towns and Waterford Slí. From left: Mary O'Brien, Rose O'Dowd, David Keane, Aga Krym, Sarah Keane, Nora O'Connor, Bríd Nowlan and Shelia Roche in Lismore. Photographer: Patrick Browne.
'We at the Waterford Sustainable Living Initiative (SLí) have been fortunate enough to receive grant funding from Creative Waterford which has enabled us to expand and diversify our methods and project base.  As an environmental education and awareness raising organisation, we have prioritised using creative methods to engage with our learners.  This support from Creative Waterford has been instrumental in achieving this goal by allowing us to hire creatives to work with us on delivering our programme, which has been very successful.  We have now mainstreamed creative thinking throughout our work and think we are a much stronger and more interesting organisation because of it.' Jen Harris, CEO, SLí Waterford.